The bot factory is intended for the manufacturing of
bots
using
titanium
.
Place the titanium cube inside the factory.
Step back out.
Select the factory.
The finished bot does not include an onboard power cell. You'll need to supply it with one for it to be able to leave the factory.
The list of feasible bots will depend upon the research your research center has completed at this time.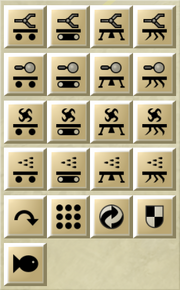 Requirements for building
Edit
Any flat surface of at least 7.5 meters wide.
Titanium.
Completed bot.
Power source
Edit
None.
Duration of operation
Edit
15 seconds.
The Phazer Shooter is not normally available in the bot factory and is only accessible by opening the vault in the final mission or by using cheats.
BotFactory
Ad blocker interference detected!
Wikia is a free-to-use site that makes money from advertising. We have a modified experience for viewers using ad blockers

Wikia is not accessible if you've made further modifications. Remove the custom ad blocker rule(s) and the page will load as expected.